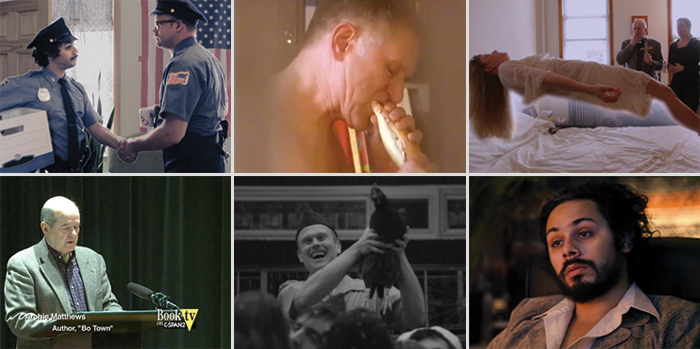 Sunset Television
is a Brooklyn-based comedy group that blurs the line between original content and found footage to create a distinct blend of mysterious, hilarious, and bizarre entertainment.

Evolving over the years, their work has taken the form of strange TV shows, undiscovered cult films, and nonsense commercials. They create a unique world where cops become stoners, the dogs are soft and glowing, and Satan loves Chinese food.

Sunset Television has created "
Two Cops
," an original web series, five anthology episodes, several scenes from long-forgotten films for Pitchfork, and music videos for Beirut and Toro y Moi.

They are currently producing a live-action pilot for Adult Swim, and regularly contribute to The Believer podcast, The Organist. Their work can be seen in festivals, galleries, and laptops around the world.


Sunset Television has been featured in:
The New York Times, The Guardian, Rolling Stone, Splitsider, Attack of the Show, NY Mag, Huffington Post, Vimeo Staff Picks, and Videogum.

"Its videos are meant to play like artifacts discovered in serpentine YouTube searches."
- New York Times

"The Sunset Television team… are unassuming masters of the tragically wry."
-Splitsider

"The original footage is so spot-on in its deadpan approximation of stale aesthetics that even discerning viewers may mistake it for the real deal at first glance."
-Future Shipwreck

"Sunset Television is some old school psychedelic satire, keeping the freak power flame alive in the age of dull bro-centric comedy."
-Tubefilter

"De hecho ya hacía tiempo que estábamos esperando algo parecido a Yacht Rock."
-Vice Spain


---
BIOS: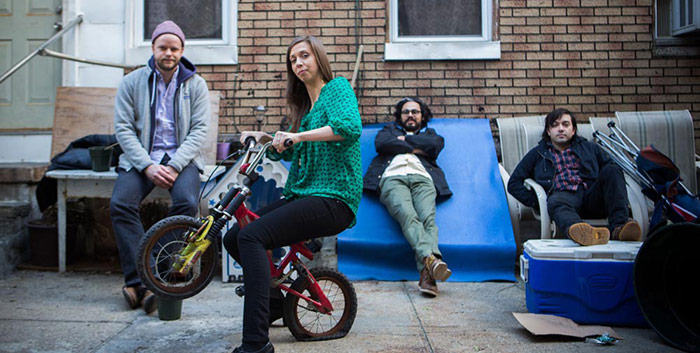 Sunset Television
is Drew Blatman, Karrie Crouse, Alex Goldberg, and Graham Mason. The foursome met at Columbia University's MFA film program and bonded over a shared love of cult movies, weird comedy, and character-driven storytelling. The Sunset team has spent the past five years crafting a unique comedic voice and a lean, ultra-collaborative production model.
Drew Blatman

is a director, cinematographer, editor, and former Floridian living in Brooklyn, New York. Drew recently directed a short documentary, A Night at the Jai Alai, released through the sports journalism site Roopstigo. As part of the directors collaborative Weird Days, he directs and edits music videos and commercial work for the likes of Converse, Nike, and Levi's. Drew has also edited promos cable tv. He is the proud owner of mcdonaldsonline.com and lives at drewblatman.com
Karrie Crouse

is a writer, filmmaker and native North Carolinian living in Brooklyn, New York. Her award-winning short films have played at festivals domestically and abroad. She is co-writer of the feature film PILGRIM SONG (SXSW Narrative Competition 2012) and the feature screenplay PAPAW EASY (Sundance Producers Lab 2013, Winner of Tribeca All Access Grant 2013, and IFP Emerging Narrative 2012). As an actor, Karrie has appeared in the feature films QUIET CITY, PASSENGER PIGEONS, and LAND HO!, which will premiere at Sundance Film Festival 2014. She can accurately impersonate zero celebrities.
Alex Goldberg

is a writer, filmmaker, actor, and half-black jew from Brooklyn, NY. As a member of the film collective Weird Days he has directed, and edited videos for clients such as Nike, and Sony, and artists such as Santigold, Riff Raff, Beanie Man, and Das Racist. He appeared as an actor on HBO's Girls. Most days he blogs at pleasegoeasyonme.com. He believes with all of his heart that he was filmstar Jackie Chan in a previous life.
Graham Mason

is a screenwriter and video editor from Michigan. His scripts have placed twice in the quarterfinals of the Nicholl Fellowship and received "Faculty Selects" and the "Excellence in Screenwriting" award at Columbia University. As an editor, Graham has worked for Comedy Central, Adult Swim, Vh1, and Logo. He does not have long, luxurious hair. He posts drawings and videos on grahambo.tumblr.com.
---
SELECTED PRESS:
Looks Familiar, but Something's Funny -New York Times

This Week In Web Videos: 'Two Cops' -Splitsider

Sunset TV Interview -Epilogue Magazine

Sunset Television -Future Shipwreck